Visit Austin – Diversity Bathroom
Showing Travelers All Are Welcome in Austin
Challenge
In 2017, discriminatory legislation to the transgender and non-binary community in Texas called the SB6 bill was up to vote, with the potential to devastate the travel and tourism industry across the state. Fortunately the SB6 bill did not pass, but Visit Austin tasked THIRD EAR to create a campaign to promote Austin as an inclusive and welcoming destination to all.
Action
With public bathrooms quickly becoming a symbol of discrimination in Texas, Visit Austin decided to make a statement in support of the trans community. We created a mark of inclusion in bathrooms across the city by creative a Visit Austin sticker with the colors of the transgender flag. While many brands recreate their logos with the LGBTQ rainbow colors, few have taken it one step further to give support specifically to the trans and non-binary community.
We produced bathroom stickers with the Visit Austin trans logo as a way for local businesses to show patrons that their establishment is open to all. To amplify this message, we created a microsite featuring participating businesses that celebrate diversity and are truly a place for everyone. The end goal is to have an online resource for diverse travelers. The photos are simple, but show off some of the most interesting bathrooms in town.
In the microsite, we designed a scrollable, visual user-experience for visitors to quickly view shots of trans and non-binary friendly establishments and a quick copy soundbite about each business. Each business listing drove to curated content already live on Visit Austin's main website. The microsite also included links to resources from local and national organizations to provide support and information about being a trans ally, transgender FAQ, and other support information for those inside and outside this niche community.
At its core, this is a social-minded campaign disguised as a tourism campaign. By using familiar tourism language paired with bathroom imagery, we sent a timely message that Austin welcomes all. Called "Open ATX", the campaign reinforces the welcoming atmosphere and inclusivity of Austin to travelers from all walks of life.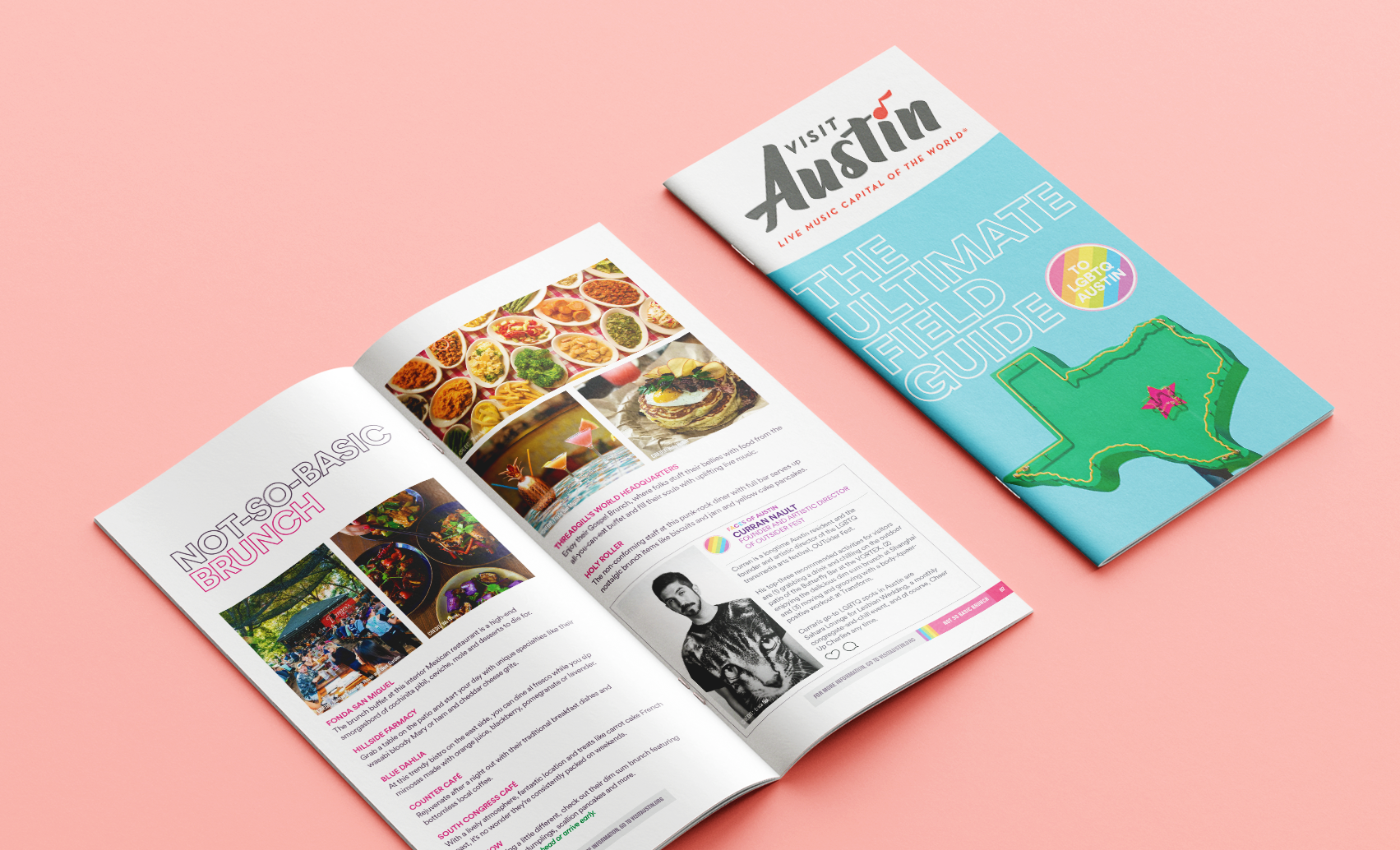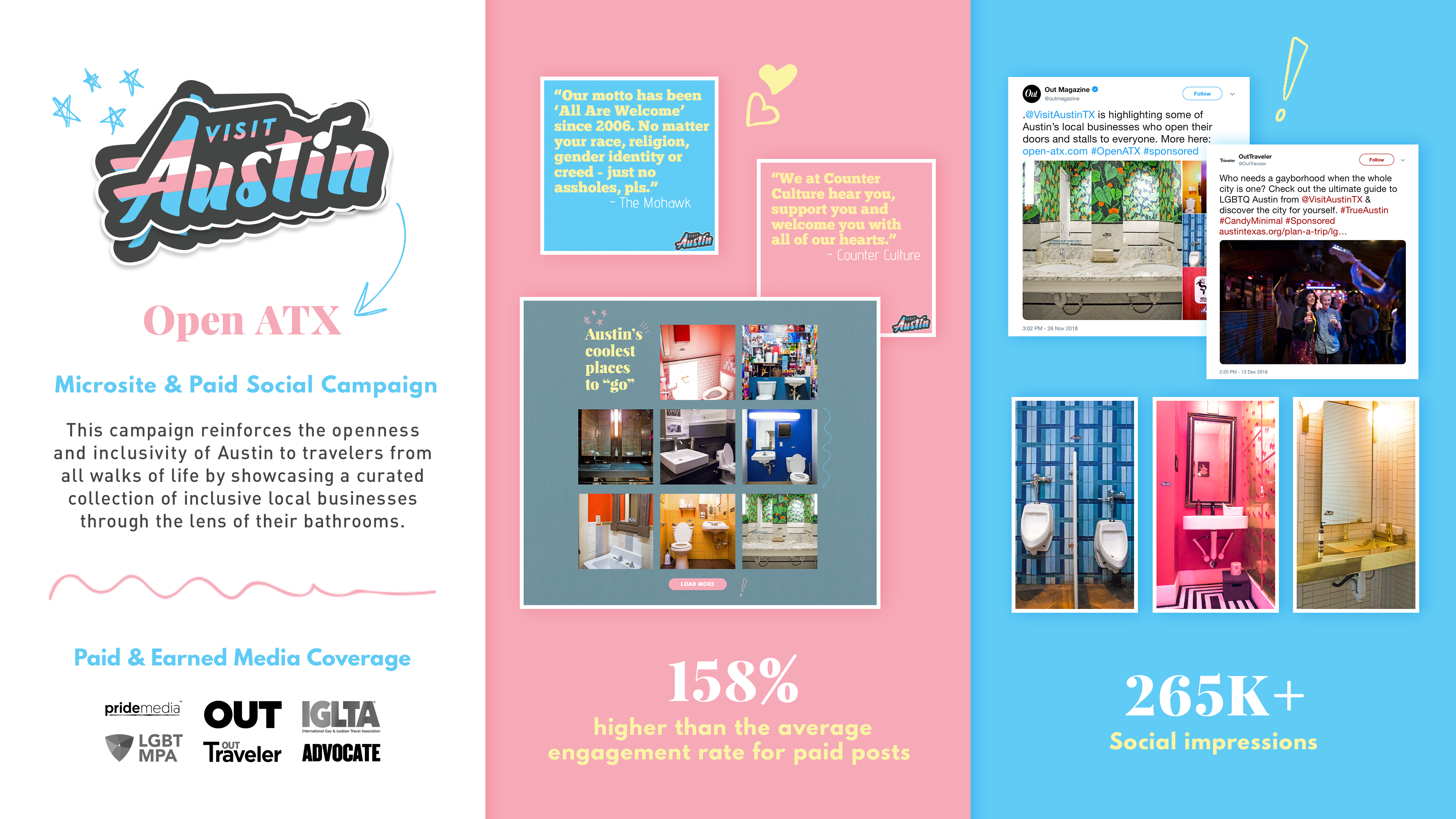 Results
This effort launched during Trans Awareness week with niche paid social support through publications like Out Magazine, Out Traveler and The Advocate, as well as promoted locally with participating businesses and on Visit Austin's owned social channels.
Even with a limited media budget, the campaign yielded 267,373 impressions across Visit Austin's organic social and paid social posts promoting the Open ATX initiative, as well as the national cross-platform promoted social posts on Out Magazine, Out Traveler and The Advocate Facebook and Twitter accounts. Earned media included coverage from relevant industry publications such as the International Gay & Lesbian Travel Association, the LGBT Meeting Professionals Association and Texas Welcomes All.
The targeted paid social posts from Visit Austin drove higher than the campaign average CTR, engagement rate, post shares, comments, and reactions. The posts had a 2.41% CTR, 125% higher than the winter campaign average of 1.07%, and a 3.20% engagement rate, 158% higher than the winter campaign average of 1.24%. The paid media posts reached a very qualified audience that resonated with the content and drove positive sentiment around the initiative.
The Visit Austin trans flag logo is now a symbol of openness and inclusivity in Austin for visitors and locals alike.
267,373
Impressions across VATX organic and paid social